.
International Biker Meeting - 2020
15th - 17th May 2020, Eifel-Germany
Liebe Brr. / Dear brethren all
Wir freuen uns, Euch zum internationalen Treffen der Masonic Biker vom 15. - 17, Mai 2020 in der Eifel einzuladen. We would like to invite all of you to join our international meeting held from 15th to 17th May 2020 in the Eifel.
Das Treffen findet in einem Hotel in der Nähe von Luxemburg statt. Es stehen uns insgesamt 50 Betten in Zweibettzimmern zur Verfügung. Die Zimmer verfügen über Dusche und WC. The meeting will take place in a hotel near Luxemburg. There will be 50 beds in twin rooms with en suite bathroom.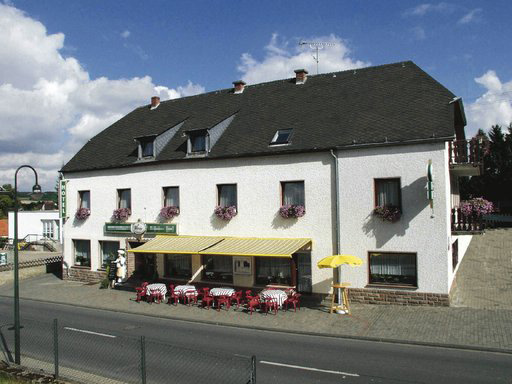 Unsere Tour führt uns über bei Motorradfahrern beliebte Strecken durch Wiesen, Wälder und Täler der Eifel und den Ausläufern der Ardennen. Die Gegend ist nicht nur kurvenreich, sondern bietet auch landschaftliche Highlights und Landmarken wie Burgen und Schösser.
The tour leads us on popular roads across meadows, deep forests, Eifel valleys and over he hills of the Ardennes. Not only there are lots of curves in gorgeous landscapes, but you will see monuments like castles and palaces as well.
Die Kosten für die Teilnahme an diesem Treffen belaufen sich auf 185,- Euro.
In diesem Preis enthalten sind 2 x Übernachtung im Zweibettzimmer, 2 x Frühstück, 2x Abendessen, 1x Mittagessen sowie Getränke (Wasser, Soft-Drinks, Bier und Wein). The fee for participating in our event will be 185,- Euro. This fee includes 2 nights in twin rooms, 2 x breakfast, 2 x dinner, 1 x lunch and drinks (water, soft-drinks, beer and wine).
Unser Programm *)
Our Program *)
Freitag 15. Mai 2020
Individuelle Anreise
18.00 Uhr Besprechung
18:30 Uhr Grillen
Friday 15th May 2020
Arrival on your own
6pm meeting
6:30pm Barbeque
Samstag 16. Mai 2020
7:00 - 8:30 Uhr Frühstück
9:00 - 12:00 Uhr Tour Teil 1
12:00 - 14:00 Uhr Mittagessen
14:00 - 17:00 Uhr Tour Teil 2
18:00 - 19:15 Uhr TA I
19:15 Uhr Abendessen
Saturday 16th May 2020
7am - 8:30am Breakfast
9am - 12am Ride out part 1
12am - 2pm Lunch
2pm - 5pm Ride out part 2
6pm - 7:16pm ritual work in first degree
7:15pm dinner
Sonntag 17. Mai 2020
7:00 - 9:00 Uhr Frühstück
Zeit "auf Wiedersehen" zu sagen
Sunday 17th May 2020
7am - 9:00am Breakfest
Time to say "good bye"
*) Änderungen vorbehalten - modifications reserved

Die Organisation leited unser Br. Karl-Heiz aus Trier.
The event is arraged by Bro. Karl-Heinz from Trier.
-> Anmeldung zum Treffen / Enroll for the meeting
(nur für angemeldete Nutzer: Login/Registrierung - registered Users only: sign in/join)